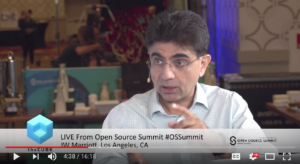 Earlier this week Arpit Joshipura, our general manager of networking, talked with John Furrier (@furrier) and Stu Miniman (@stu) at Open Source Summit 2017 in Los Angeles.
In this video Arpit says open source networking is now mainstream among telcos and carriers.
The Linux Foundation is home to 8 of the top 10 open source networking projects. ONAP, one of the most recently launched projects, has already grown to 55 members and more than 1,000 developers contributing to the code. With the addition of Vodafone, more than 55 percent of the 4 .5 billion global subscribers will be influenced by ONAP.
What's the main driver for growth with orchestration, SDN and NFV? According to Arpit, with 5G and IoT on the horizon, networks better be automated.
In this recent FierceWireless article, Arpit says many of the major carriers already support ONAP. Vodafone joins AT&T, Bell, China Mobile, China Telecom, Jio, and Orange as Platinum ONAP members. Working collaboratively the carriers will be able to deliver new services faster to boost revenue even before 5G hits, according to Arpit.