Latest Release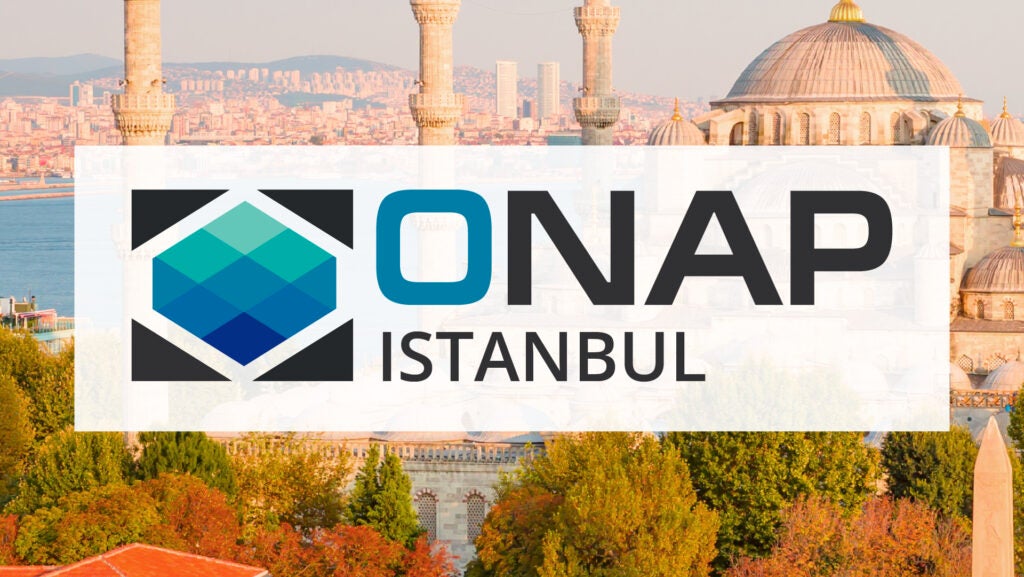 The ninth release of ONAP, Istanbul, broadens and deepens ONAP's position in the industry as the comprehensive platform for orchestration, management, and automation of network and edge computing services for network operators, cloud providers, and enterprises. 
"I am excited to announce the general availability of the ONAP Istanbul release", said Catherine Lefèvre, ONAP TSC Chair, "We continued to enhance our Blueprints (5G, CCVPN) while expanding our intent based networking capabilities. We are paving the way for CNF orchestration and Enterprise/Vertical markets through the work performed by our task forces. We maintained a strong focus on increasing scalability, reliability and security for production readiness deployments, as well as improving our delivery agility by concentrating on a single release candidate milestone while still meeting all the release criteria in a timely manner".
Get the Code | Read the Docs | See Release Notes | Get the Architecture Overview | See the Wiki 
Release Highlights 
Intent based networking (IBN) simplifies interaction and network configuration by Control-Loop and Smart AI.

Alignment with O-RAN Strategy to enable new RAN use cases

Continued Cloud Native evolution with a rich feature set for CNF orchestration capabilities

Next level of functionality for 5G use cases including Network Slicing, Performance management, SON, and CCVPN

A second generation of control loop automation architecture

New Network Function lifecycle management features based on real-life use cases

New functionality for complex network configuration management

Flexibility in resource onboarding with choice of modeling including SDC AID, ETSI SOL001

Software quality and security improvements based on deployment experience

Cloud native deployment support for all DCAE Services via helm (in addition to Cloudify/Blueprints)
Istanbul Release By the Numbers:  May 20, 2021 – Nov. 16, 2021
4.50M Lines of Code Changed

3.80K Changesets

3.37K Commits

4.65K Jira Tickets

174.81K Builds

213 Code Contributors

35 Contributing Organizations
Visit the LFX Insights Dashboard to see detailed contributor statistics  for the Istanbul Release.  A complete view of ONAP's Community Health Metrics can be seen here. Please use your Linux Foundation ID to log in.
ONAP's Cloud Native Journey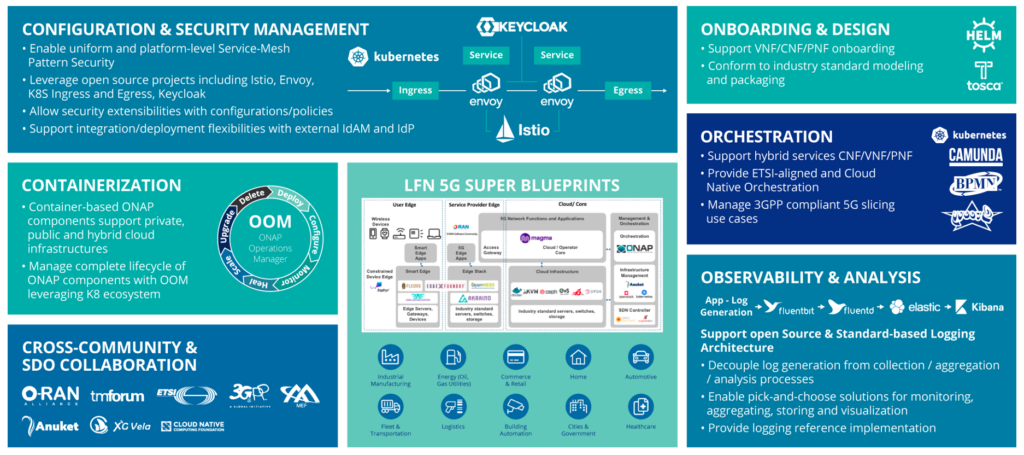 The ONAP Cloud Native Task Force has been working to evolve the project's Cloud Native capabilities across several fronts including Orchestration (Where hybrid services of CNF/VNF/PNF now leverage open-source and standards for packaging and configuration). Observability and analysis with new logging capabilities, Security enhancements using service mesh, and many more.
ONAP Security
Security is part of the ONAP DNA. The community continued to improve the security of the platform by continuing the migration from Java 8 and Python 2 to Java 11 and Python 3. Approximately 550 security and code quality issues in the ONAP developed code were fixed.  Additionally, open source dependency upgrades removed nearly 700 known vulnerabilities. In the effort to shift security further left, a proof of concept was performed that integrates security and code quality tests into the merge process. Unused and unmaintained repos were removed from the release. Finally, a uniform set of security events to be logged and data about the events were defined and will be staged into ONAP beginning with the Jakarta release. Learn more about how the LF Networking umbrella approaches security with ONAP playing a leading role.
5G Super Blueprint Integration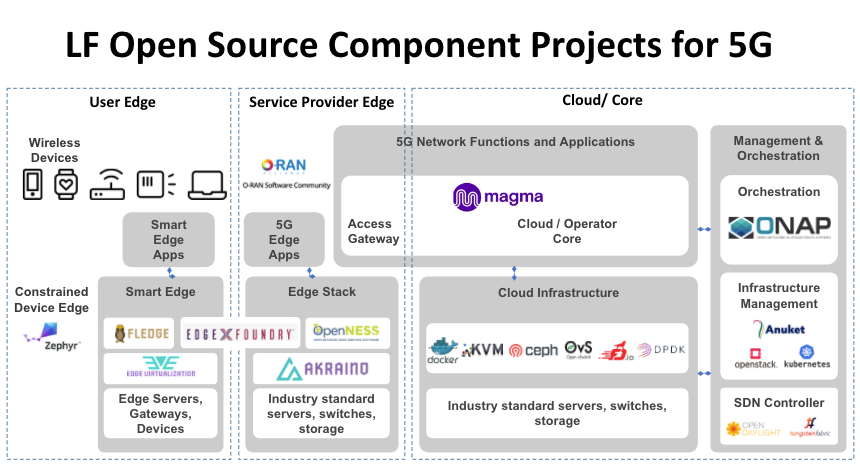 Concurrent with the Istanbul release, ONAP continues to play a central role in the LFN's 5G Super Blueprint initiative — a community-driven integration and proof of concept involving multiple open source initiatives in order to show end-to-end use cases demonstrating implementation architectures for end users. This 5G Super Blueprint covers RAN, Edge, and Core and enables solutions for enterprises and verticals, large institutional organizations, and more. ONAP plays a critical role onboarding and deploying CNFs and the latest version of this POC shown at ONE Summit North America 2021 used ONAP to demonstrate network slicing. See the ONE Summit demo here (starts at 11:48).
The ONAP for Enterprise Business Taskforce was created early this year to expand the applicability of ONAP. The goal of this working group is to show some concrete set of activities that can demonstrate values for Enterprises. One of the first use cases that we are working on is around private 5G, focussing on defining and implementing Magma Control CNF and AGW VNF using ONAP integration (including SO/SND-C/CDS). See the 5G Super Blueprint roadmap here.
ONAP Deployments in Production
In the spring, two global operators announced that they are using ONAP in their production networks. More information on these deployments is now available!
Orange:

Realizing a long-pursued goal of using the Open Networking Automation Platform (ONAP), Orange has deployed and trialed an automation framework powered by ONAP. The current use case, in production in Orange Egypt, includes automating network services, network connectivity and resource management inside IP/MPLS, and configuration changes such as provisioning virtual private networks. Through this initiative, Orange has demonstrated that ONAP has reached the maturity and modularity for network operators to take combinations of ONAP projects and components from proof of concept to production.

Get the 1-Pager. View the Webinar.
Deutsche Telekom: DT is on their way of bringing ONAP from the labs into pilot production. In their O-RAN Town project, DT deployed in the city of Neubrandenburg a multi-vendor Open RAN trial network for 4G and 5G services with massive MIMO integrated into the live network — the first in Europe. To automate services on all network domains, DT introduced a vendor-independent Service Management and Orchestration (SMO) component based on ONAP open source. The SMO is to be at the heart of complete lifecycle management of all O-RAN components in this deployment. Get the 1-Pager. Register for the Webinar.
What's Ahead
The ONAP developer community is already busy working on the next release, Jakarta. It will bring many exciting new features and enhancements. The exact content may change, as with any open source project, but expect to see new functionality for CNF standard based packaging, streamlined architecture for CNF orchestration, SON functionality alignment with O-RAN, and Intent Based Networking (IBN) applied to CCVPN and control loop automation use cases.We welcome you to come collaborate with the ONAP Community at the LFN Networking & Developer Forum, January 10-13, Virtual. Learn more and register here.