By Ranny Haiby, Samsung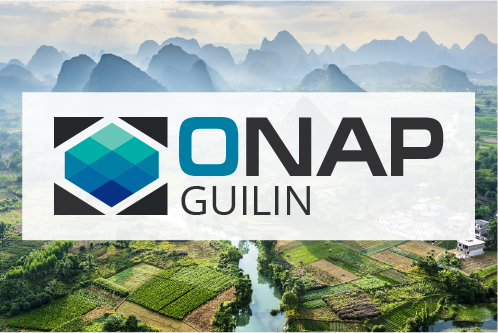 The ONAP community is excited to announce reaching a significant milestone – the general availability of Guilin, the 7th ONAP release. Named after the Chinese city of Guilin, which is an important junction of major waterways, this release delivers major functionality for several important Telecommunications use cases.
Our work on the Guilin release was aimed at addressing the needs of modern communications networks, with a focus on 5G wireless networks and open RAN. While adding new features related to these technologies, we have evolved ONAP capabilities in orchestrating the latest generation of network functions that utilize a cloud native architecture. During the release development phase, we made numerous improvements to the code quality, security, and maturity. The team working on integrating the software components and delivering the ONAP software introduced new testing tools and procedures that streamlined the process and will definitely make us even more efficient in future releases.
The new functionality in this release was prioritized based on a set of requirements driven by Communication Service Providers (CSPs). Either through their direct participation in ONAP, or through participation in LF Networking's End User Advisory Group (EUAG). We feel that the Guilin release is ready to tackle many real-life use cases including, but not limited to:
5G Network slicing – We demonstrated the capability of orchestrating network slices in all three domains – RAN, Transport, and Core
O-RAN Integration – We are proud to be part of industry wide collaboration around open Radio Access Networks. During the Guilin release we aligned the ONAP interfaces to be compatible with O-RAN Alliance specifications and the O-RAN Software Community modules.
Cloud Native Network Functions – Moving in parallel with the evolving architecture of the network functions ONAP orchestrates, the community significantly improved the way ONAP handles Cloud Network Functions (CNFs). It is now more aligned with the way ONAP handles VNFs and PNFs, leading the way to orchestrating hybrid network services using any combination of technologies.
We are always striving to make ONAP more efficient, secure, standard-aligned and simpler to use. This effort continued during the Guilin release and covered many aspects of the software. We have continued improving alignment with the latest specifications from ETSI-NFV and 3GPP, acknowledging the fact that standards compatibility is a key consideration for deployment in production networks. We introduced several improvements to the policy design and enforcement mechanisms. Based on experience from previous releases, we improved handling of Physical Network Functions (PNFs). We addressed many of the issues raised by our end users like support for IPv4/IPv6 dual stack that is crucial for 5G RAN.
In addition to functional enhancements, non-functional requirements are important to help productizing ONAP represent ~50% of the total scope of Guilin. These include advancements to the gating process, testing sets, and security.
With Guilin being the 7th release of ONAP, we realize the goal of keeping up with ever evolving needs of CSPs is a long-term task. That is why we invested in keeping up with the latest and greatest versions of our underlying software components, and constantly improving the ONAP platform itself. Some efforts are already in the works but require more than one software release to complete. Stay tuned for new and exciting software modules in the coming releases.
The ONAP community deserves a huge round of applause with this software release. Working tirelessly through a global pandemic, 260+ developers from 30 companies and 5 universities addressed 2,950 epics, user stories, tasks, and defects! We are proud to have this level of diversity and participation almost 4 years into the project.
Finally, any piece of software is useless without proper documentation and training. We welcome you to review the extensive documentation for Guilin made possible by the community here and we welcome new contributors: https://docs.onap.org/en/guilin/ (Note: ReadtheDocs is the official project documentation). You can also take a sneak preview of a new, interactive Document Navigator in Beta here: https://safratech.net/onapdocs/ and let us know your feedback. We are also pleased to announce that the Certified ONAP Professional (COP) exam has launched. Engineers who develop, deploy, and scale networks and services can now get grow and confirm their skills in this comprehensive module.
We are hopeful that our end users will find Guilin as exciting to use as it was for us developing it. Although our work is never done, this release brings the Telecommunications industry a step closer to fulfilling the promise of truly automated networks.
Learn more about Guilin here and learn how to get started with ONAP here.