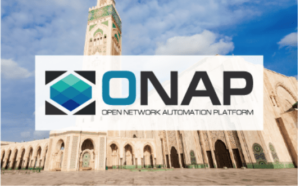 Congratulations to the entire ONAP community and extended ecosystem on the availability of ONAP Casablanca, the project's third release! We have come such a long way since ONAP's first code release, Amsterdam. With a thriving community of more than 492 developers hailing from 31 organizations, ONAP's growing global diversity has come together to deliver an even broader set of features and enhancements that make ONAP even more suitable for global deployment.
Read on for more details on what's in the release, as well as a brief Q&A with ONAP's new Technical Steering Committee (TSC) Chair, Catherine Lefevre.
New Features & Functionality
Casablanca introduces new functionality with two use cases important to the evolution of networking: 5G and CCVPN (Cross Domain and Cross Layer VPN).
The 5G blueprint is a multi-release effort, with Casablanca introducing the first set of capabilities around PNF integration, edge automation, real-time analytics, network slicing, data modeling, homing, scaling, and network optimization.

CCVPN demonstrates how to provide enterprise services across operators with the use of MEF APIs. CCVPN was first introduced onstage during ONS Europe with the help of China Mobile, Vodafone, and Huawei.

(You can read about the ONS demo

here

)
Casablanca also includes new features, architectural changes, deployability enhancements (see the "7 Dimensions of Deployability") and bug fixes. Some of my favorite highlights include:
The design time environment includes two new dashboards to simplify design activities.

The runtime environment includes new lifecycle management functions in both the Service Orchestrator (SO) and its three controllers, expanded hardware platform awareness (HPA) to improve performance, geo-redundancy, support for ETSI NFV-SOL003 for VNFM compatibility, MultiCloud enhancements, and edge cloud onboarding.

Additionally, the initial integration with the PNDA project, several new collectors, policy engine updates, and enhancements to the Holmes alarm correlation engine, boost ONAP's service assurance capabilities.
Community Growth
We're also very excited to see strong growth among the ONAP community. With an expanded community, we've been able to develop more features in less time! For comparison's sake, the number of contributing CSPs, vendors, and other organizations has increased to 31 up from 24, and Casablanca includes contributions from 490 developers, up from 452 compared to the Beijing release. Equally important, the community has expanded beyond technical concerns to collaborate with other open source projects such as OPNFV, CNCF, and PNDA, as well as standards communities such as ETSI, MEF, and TMForum.
We also plan to integrate more closely with OPNFV on the compliance & verification program, which will extend to VNFs following Casablanca. The program will allow VNF vendors to test their products using a standardized test suite and receive a verification badge.
To get more color on how the community came together for this release, I sat down with ONAP TSC Chair, Catherine Lefevre. Here's what she had to say:
Q&A with Catherine Lefevre, ONAP TSC Chair
Can you share any anecdotes about the release and community coming together? We heard rumblings of a great conversation in the LFN booth at ONS Europe. Please elaborate.
While some of our ONAP members were engaged in talks and demos at the ONS Europe, I took the opportunity to organize several meetings. The purpose was to collect feedback from the community to better understand what their expectations are related to the new ONAP TSC. The number of participants turned out to be larger than anticipated and was really energizing, highlighting improvements in terms of technical leadership, communication, documentation, consistency across the platform, plus much more. This feedback became part of our TSC roadmap. An "ONAP TSC" project was created in JIRA (https://jira.onap.org/projects/TSC/), allowing us to track our TSC action items to drive change and accountability based on the feedback from the community. We wanted to manage TSC in the same way we manage any new ONAP feature.
If you had to summarize the release in 3-5 sentences, how would you describe it?
The goal of Casablanca was to consolidate our projects foundation while evolving to modularity and aligning to industry standards i.e. MEF 3.0, ETSI NFV-SOL003, etc.
On the deployment side, we made great progress in streamlining the ONAP installation using Kubernetes, adding a broader range of physical/virtual storage options, enhancements to backup/restore, etc.
On the design time side, two additional artifacts were added to continue driving the unified design palette to help product managers, VNF owners, and anyone interested to build on ONAP (DCAE Design Studio – control loop workflow & Workflow designer for orchestration workflow)
On the run time side, we increased the service assurance footprint by adding new High Volume VES (Virtual Event Stream) collectors and performed initial integration with the Linux Foundation PNDA project in DCAE (Data Collection Analytics & Events). PNDA containerization, application onboarding, and deployment are currently targeted for Dublin. We also developed new functionalities to support physical network functions (PNFs) and audit capabilities through A&AI (Active & Available Inventory).
On the Security side, we integrated many of the ONAP components with Application Authorization Framework (AAF) and increased the CII badging compliancy.
Casablanca provides blueprint updates to 5G and CCVPN as well as a sneak peek of compliance and verification updates related to VNF testing. Can you explain how this will benefit the ecosystem? Why are these developments significant?
ONAP 5G & Cross Domain Cross Layer VPN (CCVPN) Use cases are definitely the cornerstones of the Casablanca release.
The ONAP CCVPN Use case exercises many aspects of ONAP by building a high-bandwidth, flat and super-speed Optical Transport Network between two carriers and across multiple domains.
The ONAP 5G blueprint starts to address two of 5G challenges: Network optimization and the extension of Zero Touch Orchestration/Automation to Radio Access Networks.
These use cases, 5G and CCVPN, demonstrate the willingness of carriers to work together on common requirements. The ONAP community is a fantastic Software Defined Network platform for academic research, proof of concepts into complex topics, benefiting from a lot of technical expertise and highlighting the desire of the ONAP community to develop a platform that focus on building a future together.
What makes this release unique, and  what is your favorite thing about Casablanca or the way in which the community came together?
The acceleration of the ONAP community diversity highlighted by the rise of VNF and 3rd party vendors contributing to the ONAP Casablanca release.  They also now have a better understand the source code and are able to develop themselves.
The scope of the Casablanca release was substantially larger in comparison to the Beijing release while our testing capacity did not increase respectively. The last 3 weeks were challenging, but we had a great Integration team with a "never give-up" mindset and a group of Project Technical leads who acted as a single team. This is really my favorite part, having a large team coming together, focused on a shared goal, working collaboratively to achieve the impossible –  the power of the team spirit!
Now that Casablanca is out the door, what are you anticipating for ONAP's next release?
We plan to have a minor release in early February 2019 to address some security and code enhancements.
The scope of our first 2019 major release, Dublin, is not yet finalized; however, the ONAP TSC has identified several guiding principles they would like to put in place:
Pursue our Continuous integration / Continuous Deployment Journey to ensure development issues are addressed quickly by leveraging more automation
Security by Design – re-enforcement of security awareness at each milestone of the release; not only at code freeze.

Document as You Code – dedicated focus on improving the documentation all along the release cycle.
Stay tuned for more to come in the coming weeks …
Join us to help shape the next ONAP release!
Dublin Release Developer Design Forum: The next design forum will be conducted jointly with the OPNFV Gambia Plugfest in Paris, France from January 8-11, 2019. The event, as the name suggests, will focus on Dublin release planning and explore various synergies with OPNFV. Both members and non-members are welcome to attend. More info here: https://events.linuxfoundation.org/events/onap-ddf-opnfv-plugfest/.